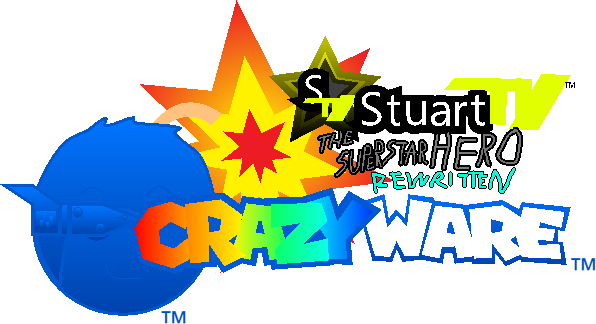 STSSHR: CrazyWare
A downloadable game for Windows, macOS, Linux, and Android
!!!Lag Warning!!! - If your computer is slow, this game may be hard to play.
so use turbowarp, it's good for you!
https://turbowarp.org/503285622

------------------------------------------------------------------------------------
The microgames use Arrow Keys (or WASD), Space Bar, and/or Mouse. I'll let you figure out which ones ;)
There are 15 microgames and 1 boss stage.
---Changelog---
1.00:
- Welcome!
1.01
-Updated ScratchTeen9300
-Ancty Has a voice line!
-Updated Logo
-ringtop02 replaced into ScratchTeen9300 (Minigame #7)
1.02
-Updated some stuff
1.03
-Updated RDash75
----TIPS----
*Recommended control scheme is [One hand on WASD; Space], and [Other Hand on Mouse].
*On Game 14, try holding down the mouse and painting.
*On Game 4 & 7, try holding space ;)
If you have an application of Scratch 3.0 (With some versions like Windows, macOS, & Linux) you must upload this game and play it! so here's the link:
https://scratch.mit.edu/download

Versions:
CrazyWare A The Phineas2010 Show Origins Game V.1.10:
This Project was fixed by RDash75.
CrazyWare_ A The Phineas2010 Show Origins Game (Latino)
Latin Spanish Translated...What?
CrazyWare_ A The Phineas2010 Show Origins Game (JP)
Whoa! Japanese Translated!
CrazyWare_ A The Phineas2010 Show Origins Game (Pre-Freshly Wiped)
This Parody Game was an update on 2020 (the worst year ever)
SOTSR CrazyWare (v1.03)
This Parody Game that I um... based on WarioWare?

CREDITS:
© Nintendo
©SEGA
and more!

| | |
| --- | --- |
| Status | Released |
| Platforms | Windows, macOS, Linux, Android |
| Author | phineas2010scratch |
| Genre | Puzzle |
| Tags | Funny, Horror, Parody |
| Average session | A few seconds |
| Languages | Afar, Abkhaz, Avestan, Afrikaans, Akan, Amharic, Aragonese, Arabic, Assamese, Avaric, Aymara, Azerbaijani, Bashkir, Belarusian, Bulgarian, Bihari, Bislama, Bambara, Bengali, Tibetan Standard Tibetan Central, Breton, Bosnian, Catalan; Valencian, Chechen, Chamorro, Corsican, Cree, Czech, Old Church Slavonic, Chuvash, Welsh, Danish, German, Divehi; Dhivehi; Maldivian;, Ewe, Greek Modern, English, Esperanto, Spanish; Castilian, Spanish; Latin America, Estonian, Basque, Persian, Fula; Fulah; Pulaar; Pular, Finnish, Fijian, Faroese, French, Western Frisian, Irish, Scottish Gaelic; Gaelic, Galician, Guaraní, Gujarati, Manx, Hausa, Hebrew (modern), Hindi, Hiri Motu, Croatian, Haitian; Haitian Creole, Hungarian, Armenian, Herero, Interlingua, Indonesian, Interlingue, Igbo, Nuosu, Inupiaq, Ido, Icelandic, Italian, Inuktitut, Japanese, Javanese, Georgian, Kongo, Kikuyu Gikuyu, Kwanyama Kuanyama, Kazakh, Kalaallisut Greenlandic, Khmer, Kannada, Korean, Kanuri, Kashmiri, Kurdish, Komi, Cornish, Kirghiz Kyrgyz, Latin, Luxembourgish Letzeburgesch, Luganda, Limburgish Limburgan Limburger, Lingala, Lao, Lithuanian, Luba-Katanga, Latvian, Malagasy, Marshallese, Māori, Macedonian, Malayalam, Mongolian, Marathi (Marāṭhī), Malay, Maltese, Burmese, Nauru, Norwegian Bokmål, North Ndebele, Nepali, Ndonga, Dutch, Norwegian Nynorsk, Norwegian, South Ndebele, Navajo Navaho, Chichewa; Chewa; Nyanja, Occitan, Ojibwe Ojibwa, Oromo, Oriya, Ossetian Ossetic, Panjabi Punjabi, Pāli, Polish, Pashto Pushto, Portuguese (Portugal), Portuguese (Brazil), Quechua, Romansh, Kirundi, Romanian Moldavian Moldovan, Russian, Kinyarwanda, Sanskrit (Saṁskṛta), Sardinian, Sindhi, Northern Sami, Sango, Sinhala Sinhalese, Slovak, Slovene, Samoan, Shona, Somali, Albanian, Serbian, Swati, Southern Sotho, Sundanese, Swedish, Swahili, Tamil, Telugu, Tajik, Thai, Tigrinya, Turkmen, Tagalog, Tswana, Tonga (Tonga Islands), Turkish, Tsonga, Tatar, Twi, Tahitian, Uighur Uyghur, Ukrainian, Urdu, Uzbek, Venda, Vietnamese, Volapük, Walloon, Wolof, Xhosa, Yiddish, Yoruba, Zhuang Chuang, Chinese, Chinese (Simplified), Chinese (Traditional) |
| Inputs | Keyboard |
| Accessibility | Color-blind friendly, Subtitles, Blind friendly, Textless |
Install instructions
INSTRUCTIONS TO PLAY THE GAME:
Step #1: Download The aplication of Scratch 3.0
Step #2: Download the game
Step #3: Press this application

Step #4: Press File
Step #5: Press Load your Computer
Step #6: Select this file and enjoy playing this game!